"That we may present every person complete in Christ."
"Expect great things from God!

Attempt great things for God!"


--- William Carey

Non-profit faith based Short-term Volunteer Mission Projects designed with a clear focus on church planting in rural areas of the world.

PRAISE AND PRAYER WITH THE POUNDS
I Saw God Do It!


with
Wil & Ann Pounds
Personal Evangelism Training in Ongole, India
Wil speaking at the personal evangelism conference in Ongole, India. Pastor Samrat translated for Wil and Jerry Starnes.
"For if I preach the gospel, I have nothing to boast of, for I am under compulsion; for woe is me if I do not preach the gospel" (1 Corinthians 9:16).
Much of the work here in the city of Ongole, the land of William Carey, the Father of the Modern Missionary Movement, was started by a Baptist missionary from New York, John Clough. The Jewett Memorial Baptist Church was founded in 1866. Sunday morning the church was packed, including the large balcony and overflowed under a roof outside the church. There were over 5,000 in attendance Sunday, and they have 7000 active members. This church has ministries all over this city of 500,000. (A little over two percent of India's one billion, two hundred million population are Christian).
This week we worked in another church with a family of four generations of Baptist pastors. The great-great grandfather was led to Christ by John Clough. The work that missionary started continues through this precious family. And there are many other churches and ministries that Clough was instrumental in starting.
Third generation Baptist pastor at our host church in Ongole.
Seventy-nine percent of India are Hindu and represent 1,492 different Hindu castes or social hierarchies. These social positions determine your ability to get higher education, government jobs, higher paying jobs, where you live, who you marry, etc. I am constantly reminded there are no casts, nor social strata in Christ. There are no Jews, no Greeks, no barbarians, and no casts in Christ. We are all one in Him. He has set us free from the bondage of sin.
On the five hour train ride from Chennai, an Indian mother and three small daughters were in the seat in front of us. Jerry and I had fun talking with them, showing family pictures on our phones. The six year old plays the piano. The father owns a music store. As we talked we found out they are Muslim. Fourteen percent of India are Muslim.
On the ride to the hotel from the airport we saw a large group of Hindu men running through hot coals to purge themselves of their sins. There were lots of shouting, noises as this was a big deal for them. If their feet were not burned, they were cleansed of their sins. I thought of how precious the blood of Jesus that cleanses us of all our sins.
The farm workers earn two U.S. dollars a day. We saw a lot of rice fields on the five hour train ride to Ongole.
On Sunday I woke up at 5 am wide awake. I looked forward to a great day in the Lord and asked for His special anointing and power in preaching.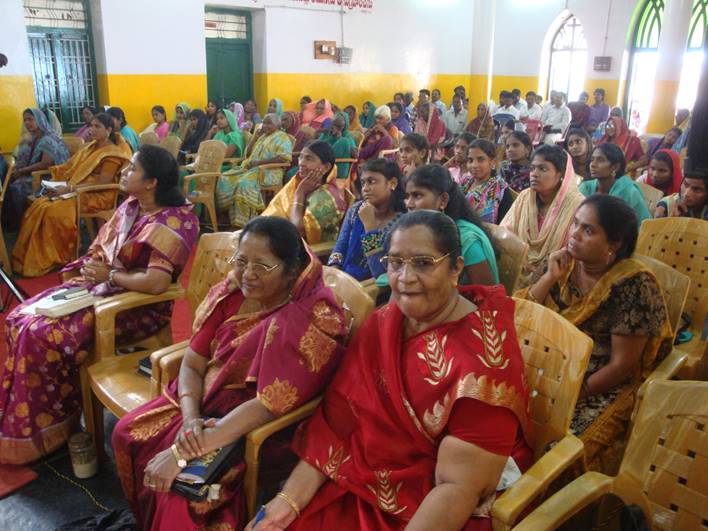 Morning worship service in Ongole, India.
The service went great. Interesting. The music was very different from our western Christian culture.
Music started at 9 am. I began preaching at 11:15 and took my full hour. With translation that is less than a 30 minute sermon. The congregation was over 300 today. It was a Hindu Holliday week, and because it was a government holiday many were away on vacation with their families. I asked everyone with Bibles to lift them up. Everyone had their Bibles open ready to read. Pages turned when I read passages such as John 20:31; 10:24-30; 1 John 5:11-13, etc. I preached on our eternal security in Christ.


There was a good spirit, intense listeners, excellent rapport.There was good feedback from the audience as I preached.
On Monday, Oct. 26, we began our conference on evangelism and the second coming of Christ. I began the conference on why we have been commanded by Christ to be personal witnesses. Next, Jerry introduced eschatology, definition of rapture, second coming, tribulation, etc. We divided our time evenly with an hour each.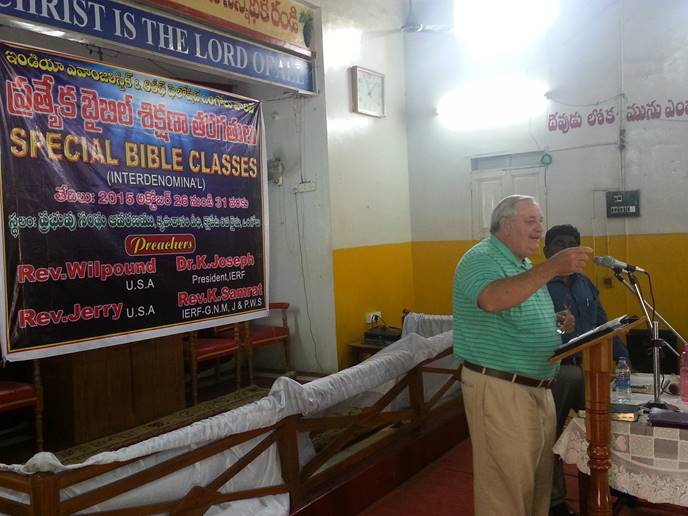 Jerry Starnes speaking on eschatology at conference in Ongole, India.
At the first afternoon session I sensed the Holy Spirit leading me to change my emphasis to Romans 3 and justification by faith. There was an excellent response and good questions. Later one pastor preached on the same theme in his church and led a husband and wife to put their faith in Christ. Jerry and I had the privilege of baptizing them in the lake on Saturday.
Bible conference on personal evangelism and eschatology in Ongole, India.
The church where we held the conference has a school for elementary and high school with 210 students from the lower caste system.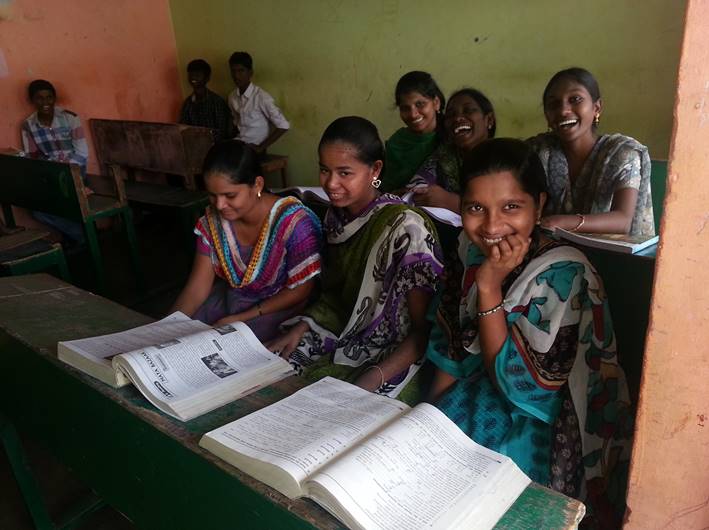 High school students enjoying their class.
They also have 185 orphans who attend their school. Those who graduate go on to college and university. I have never seen so many smiling children. They are outgoing, warm, friendly, engaged students. We spent enjoyable time with children in the elementary school operated by the church.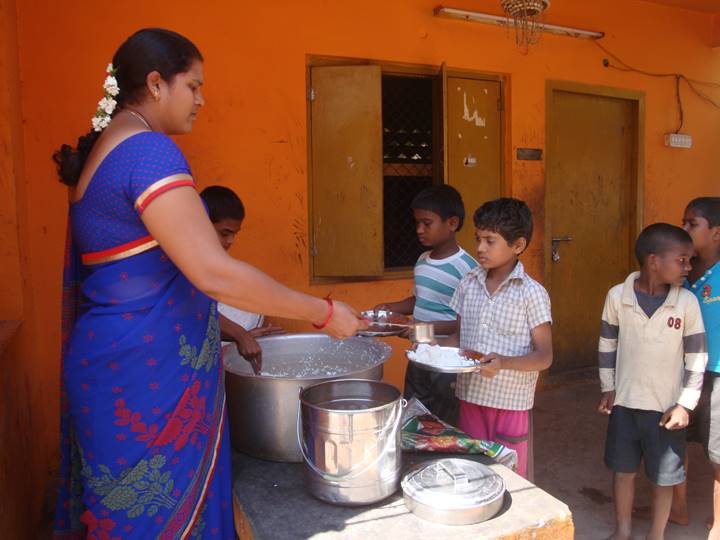 Lunch for the school students and orphans.
Response to our teaching this week has been excellent, and much needed by the pastors. They have two Bible conferences a year.
Pastor Samrat, who invited us, graduated from Serampore College in 1991. It was established by William Carey in 1818, and has close ties with William Carey University in Hattiesburg, Mississippi. (Seven members of my family are all graduates of WCU).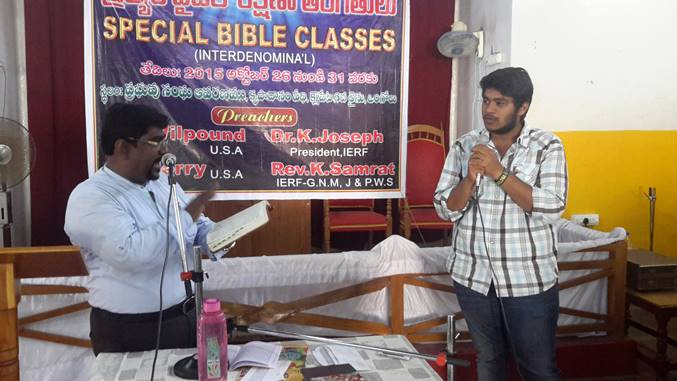 Pastor Samrat and his son Prince giving a demonstration on personal witnessing.
On Friday we went to a funeral for a Baptist pastor. It is so hot here, and for lack of embalming, the body was in a refrigerator lying horizontal with glass surrounding sides and top for viewing of the body. He was buried in the Baptist cemetery kept up by Jewett Memorial Baptist Church.
Everywhere you go you see Hindu temples all around the city. The weight of seeing such paganism reminded me of Paul entering Athens. Everything is a god here; monkey god, snake god, sacred cows roaming the streets. It is heartbreaking, and heavy spiritually.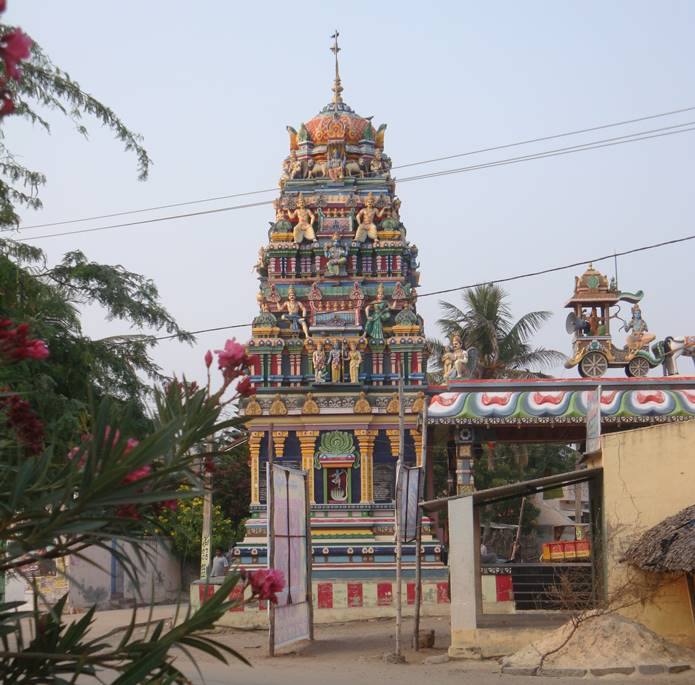 Typical of the many Hindu temples.
On Saturday after the conference, we visited a young Christian lady planning on marriage this month. Across the street a muslin lady saw us coming out of her Christian friend's house and asked us to come visit. After casual introductions I asked her about her relationship with Jesus and the Roman road. It was beautiful to see her respond as she received Christ. Praise the LORD!
We were invited to join the pastor and baptize a couple who accepted Christ as their Savior. The pastor who attended the evangelism workshop went back to his church Thursday night and preached a message on justification by faith using the Roman road. A man and his wife responded.

Baptism service on Saturday at the lake near Ongole, India.
On Saturday afternoon, before the baptism, we went to the church and I gave a special presentation to a building full of kids using five different colored sheets of paper or what I call the Wordless Book. Black for sin, red for death or Christ, white for faith in Christ, green for Christian's spiritual growth, and yellow for heaven. We had a beautiful response from the children.
The church, with all these kids, marched around town following three men with snare drums. We stopped at a Christian doctor's clinic and prayed for him and his wife.

Some of the people who came to the church before the baptism.
Then we baptized a couple in a nearby lake. After our baptism, a Berean church group came and baptized new believers. What a joy!
On the second Sunday, Nov. 1st, we went to Itamukkala, one of the places destroyed by the tsunami a few years ago. We preached in this church. The pastor taught a section from my book on evangelism training. Then Jerry and I shared the Word with them.

Wil's evangelism manual has been translated into the language of the people to train pastors.
Just when we think the trip is over, other opportunities opened to share the good news. Among them was going to a rural Hindu community and sharing the love of Christ with the "untouchables" people at the very bottom of the Hindu caste system in India. Pastor Samrat has a ministry to these extremely poor, forsaken, indeed untouchables. Again, I used the Wordless Book and told them about the Book of Life.

Wil using the Wordless Book to share the plan of salvation with a group of "untouchables" in India.
In 2014 India had the largest number of TB cases in the world with 1.5 million cases in India alone.
Literacy rate in a nation of 1.2 billion is 38%. 600,000 villages. 50% of the people have never heard the name of Jesus.
55,000 people die every day, eternally separated from Jesus Christ.
Pray for India. Pray for the land of William Carey.
Thank you for the opportunity of being your representatives, and may the Lord's richest blessing be yours.
Thank you to all of the Indian evangelicals in Ongole who made this ministry of evangelism training possible.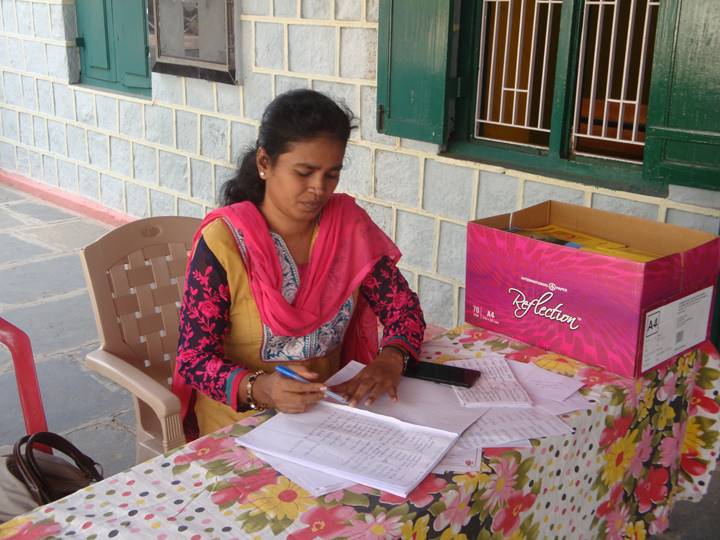 "Cookie"our faithful adminisitrative assistant in charge of registration of pastors at conference.

Children in elementary school class room.
Partnership missions give you an opportunity to become personally involved in what God is doing in world missions. Pray daily for the work in Honduras. Give financially. We are a faith mission and are dependent upon your financial gifts. Please pray about becoming involved in the support of our mission. "As long as the Lord provides I will give ¦ $25 $50 $100 $___ a month."
Current Needs:
<![if !supportLists]> q Pray for Pastor Samrat in India. For more information on ministry in India go to: Good News Mininstries in India contact Bro. Kodavatikanti Samrat. Email: ksamrat_2003@yahoo.com (Please note that Abide in Christ is not affiliated nor a sponsor of this ministry). Pray for wisdom for evangelism and doctrine training for pastors in a future Bible conference. <![endif]>
Pastor and Church Leadership Training Ministry in Ecuador. Each trip costs approximately $4,000 and covers airplane tickets, room and board, rent for truck, gas, local workers, textbooks for students.
<![if !supportLists]> q <![endif]> Pray for evangelism saturation teams to do door-to-door evangelism and rallies at night.
<![if !supportLists]> q <![endif]> Pray for scholarships for Peniel Seminary students in Riobamba, Ecuador.
<![if !supportLists]> q <![endif]> Pray for Evangelism Workshops with Nicaragua Baptist pastors.
<![if !supportLists]> q <![endif]> Pray for wisdom to know where the Lord is leading to conduct evangelism workshops, and where to focus teaching ministry. We have been asked to return every three months and teach Ecuador pastors.
<![if !supportLists]> q <![endif]>We are presenting one-day, three-day weekend, and one week Evangelism Workshops for pastors and church leaders in churches in Latin America.
<![if !supportLists]> q <![endif]> Pray for Alberto & Nancy Copa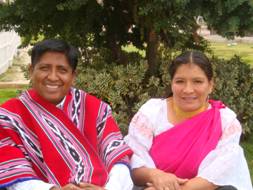 Alberto Copa with his wife Nancy
Alberto is a pastor and leader in the Quechua Evangelical Churches in Chimborazo Province, Ecuador. He is Director of the Peniel Theological Seminary in Riobamba, Ecuador. He has over 20 years' experience pastoring bilingual churches in Ecuador. He and his wife are both graduates of an evangelical seminary in Bolivia.
<![if !supportLists]> q <![endif]>All gifts to Abide in Christ are tax deductible under IRS 501 (c) (3) tax exempt status.
Abide in Christ, Inc.