I Saw God Do It!
SEARCH ABIDE IN CHRIST WEB SITE

Custom Search Abide in Christ
The Biblical Preacher's Workshop
Biblical Preaching
Expository Preaching
Are You Ready to Preach?
Centrality of Biblical Preaching
How to Live the Christian Life

Try our Bible commentary search.  
Abide in Christ

The ads and gifts to Abide in Christ make it possible for us to provide all our study materials on line free of charge. Your gifts make it possible for us to share our Bible studies world-wide, and speak at pastors conferences, conduct evangelism workshops for small rural churches in third world countries, teach Bible courses, etc., as a non-profit ministry.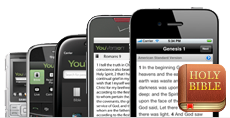 "Here is an excellent FREE application for your cellphone or tablet. I have used it every day for last few years on my cellphone and tablet. It even has audio feature so you can listen to the Scriptures" - Wil Pounds. Engage in Scripture like never before.Download the free app and enjoy regular time with the Bible, right when and where you need it. Yes, it is FREE. No strings attached. This is not an ad. It is a recommendation from a satisfied user. The app is nondenominational and available in more than 600 Bible translatins and mroe than 400 languages. There have been more than 100 million downloads.

Back by popular demand are our  Jigsaw Puzzles. Need a break?  Try one of our online  puzzles made with original pictures taken by Wil in Ecuador, Honduras and the Mississippi delta. Java enabled. 
LINKS  XML  


What are RSS Feeds?
Java code for FREE RSS Daily Devotional feeds for Webmasters
 
Abide in Christ Sampler   This is the best place to begin for new visitors. Sample some of the hundreds of free sermons, Bible studies & devotionals for Christian living.
A FREE GIFT FOR YOU Here is the best gift anyone can ever give you. Also available as a MS-Word document you can personalize and print as a tri-fold brochure for your personal witness. (Right click and "Save as").


Try our Bible commentary search.
Chronological chart of the Kings and Prophets of Israel from Saul to Malachi.

Sermon Series on Seven Last Sayings of Jesus  The seven last words of Jesus from the cross speak of salvation and assurance of eternal life.

Poems on the Book of  Revelation
Poetic Reflections on the Psalms  by Rex Henderson
Poetic Reflections on the Psalms by Rex Henderson

Statement of Faith and Doctrinal Beliefs taught in the expository sermons, Bible studies and daily devotions on Abide in Christ.

Chicago Statement on Biblical Inerrancy

I SAW GOD DO IT!

Mission Reports with Wil & Ann Pounds

NEW Pastor's Conference with the Quechuas in Riobamba, Ecuador August PDF

NEW Quechua churches in Riobamba, Gatazo, and Jipijapa, Ecuador in PDF

NEW Born to Multiply in Santo Domingo, Gataso, San Bardardo, and Guayaquil, Ecuador PDF

NEW Evangelism in Depth workshops in Wiwili, San Juan de Rio Coca, and San Raphael de Norte PDF

New Ministry to Quechuas PDF

Hey everyone, I found this incredible offer that I think you should check out. It's a free 34 volume QuickVerse Bible Software CD that this nonprofit ministry gives away (they do make you pick up the shipping).

I was quite impressed with the true ministry of this offer. You can get the free CD at their website:www.FreeBibleSoftware.com. You may want to forward this to the people you know that could use some good Bible software.

Graduation of Students New Mission Churches

Preach the Gospel in Season and Out

Mission Outreach in Danli, Honduras

Biblical Preaching & Teaching Course -  Follow-up on Zapotillo

Baptist Mission Started in Zapotillo, Honduras

Children's Bible Classes in Danli, Honduras

Baptism of new believers in Danli, Honduras

Bible Institute Courses by Extension

Juan Alberto Herrera's Testimony

First Bible Institute Course taught at Danli January 2005