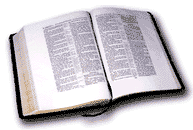 Sermon Series on the
Seven Last Sayings of Jesus
This is a series of Bible centered messages by Wil Pounds on the seven last sayings of Jesus as He hung on the cross. Click directly on the message title to view it.
If you need help in becoming a Christian here is A Free Gift for You.
---
Message by Wil Pounds (c) 2008. Anyone is free to use this material and distribute it, but it may not be sold under any circumstances whatsoever without the author's written consent.
Wil is a graduate of William Carey University, B. A.; New Orleans Baptist Theological Seminary, Th. M.; and Azusa Pacific University, M. A. He has pastored in Panama, Ecuador and the U. S, and served for over 20 years as missionary in Ecuador and Honduras. He had a daily expository Bible teaching ministry head in over 100 countries for ten years. He continues to seek opportunities to be personally involved in world missions. Wil and his wife Ann have three grown daughters. He currently serves as a Baptist pastor and teaches seminary extension courses in Honduras.