I SAW GOD
DO IT!
NEW Divine Encounter in Guayaquil
NEW Study to Show Your Self Approved of God in Ecuador PDF
NEW Seminary Extension in Guaranda, Ecuador PDF
NEW Workmen Approved of God PDF
NEW Quichua Pastors and Wives'Conference 2012 PDF
NEW Teaching Evangelism by Doing It PDF
NEW Miskito People Evangelism Training in Nicaragua
PDF
Power of God to Salvation of Quechuas PDF
Key Word Studies Doctrine Conference in Santo Domingo, Ecuador
Hunger for God's Word in Ecuador
UPDATE Sowing and Reaping in Nicaragua PDF
Dr. John Howell's Evangelism Team Report on Ecuador PDF
Pastor's Conference with the Quechuas in Riobamba, Ecuador August 2011 PDF
Quechua churches in Riobamba, Gatazo, and Jipijapa, Ecuador in June, 2011 PDF
Born to Multiply in Santo Domingo, Gataso, San Bardardo, and Guayaquil, Ecuador
PDF
Evangelism Workshops in Wiwili, San Juan de Rio Coca, and San Raphael de Norte
PDF
Ministry to Quechuas
PDF
Construction of new Baptist Mission Ocotal, Nicaragua
PDF
Construction completed in Danli & Zapotillo - Evangelism Training in Teupasente
Powerful Personal Witness for Christ Over 500 Personal Decisions
Evangelism Workshops in Chachapoyas Peru
Evangelism Training in Nicaragua 2010
Las Crusitas Bible Institute in Honduras and the city of Talanga
Evangelism Workshops four cities in Nicaragua
Evangelism Team in Lepaterique, Honduras
Evangelism Workshops with Nicaraguan Baptist pastors in Ocotal
Evangelism Team Witnessing in Danli and Zapotillo
Evangelism and Construction Team Danli & Zapotillo January 2009
Evangelism Team in Palacaguina, Nicargua
Door-to-Door Evangelism Team at Las Acacias report by Dr. John Howell
Church that Meets in Pablo's House
Two New Missions Completed in Honduras
God at Work in Two New Mission Starts in Honduras
Evangelism Conference in Nicaragua
Gospel Outreach in
Regions Beyond
Medical Dental Evangelism and Church Growth
Graduation of Students
New Mission Churches
Preach the Gospel in Season
and Out
Mission Outreach in Danli, Honduras
Biblical Preaching & Teaching Course - Follow-up on Zapotillo
Baptist Mission Started in Zapotillo, Honduras
Children's Bible Classes in Danli, Honduras
Baptism of new believers in Danli, Honduras
Bible Institute Courses by Extension
Juan Alberto Herrera's Testimony
First Bible Institute Course taught at Danli January 2005
Seminary Extension Courses in Managua, Nicaragua
TEAMS IN ACTION
Christian Missionaries and Missionary Christians
by Tom Ascol
"We never test the resources of God until we attempt the impossible" -- F. B. Meyer
"We must do something!
Expect great things from God! Attempt great things for God!" -- William Carey,
father of the modern missionary movement.
"Anything God has ever done He can do now. Anything He has ever done anywhere, He can do here! Anything God has ever done for anyone He can do for us" - A. W. Tozer
Mission Statement
The purpose of
Abide in Christ
is to proclaim the Gospel of Jesus Christ and make disciples of all the nations, teaching them the Word of God, the Bible; provide Bible based curriculum for rural pastors and church leaders; shall educate by conducting seminary extension courses, workshops, seminars, revivals, Bible conferences, evangelism training to effectively equip and train leadership; actively participate in evangelism and discipleship of local communities throughout the world; to promote, participate in and conduct evangelistic and discipleship ministries worldwide; will educate the Christian community and provide financial assistance to pastors, national missionaries and ministries. Our goal is to evangelize, disciple and provide local pastors or church leadership with the basic knowledge and skills that are necessary to effectively fulfill their biblical responsibilities in the local church. At the end of our courses we want them to be able as pastors and teachers to prepare God's people for service, so the body of Christ may be built up to the glory of God the Father.
"I was able to see God at work like I had never known."
SEMINARY EXTENSION PROGRAM
In January 2005, Wil taught the first in a series of ten courses to begin the new Seminary Extension program in Danli, Honduras. We will provide five courses this year and five next year. Pastors of evangelical churches in other parts of Honduras and Nicaragua are asking for these courses to be taught in their town and villages.
Pray for the Lord's guidance as we seek to provide a cost effective, high quality, professional education experience for rural pastors, evangelists and church workers in Honduras. These humble, financially deprived, dedicated servants of the Lord have had little, if any, formal training at a Bible college or seminary level.
PARTNERSHIPS
We participate with conservative, evangelical Bible believing organizations in planting churches, discipleship of rural communities, and in some church construction. Pastors and church leaders of other evangelical groups are invited study with us. The course material has been prepared from a perspective which represents the traditional mainstream Christian theology and is conservative, evangelical and Bible-centered. The Bible is the required curriculum content. We provide the students free of charge textbooks for each course. Statement of Faith of Abide in Christ.

I SAW GOD DO IT
are reports on what God is doing in these Bible institutes and seminary extension programs, medical-dental evangelism teams, church construction and evangelistic opportunities.
WIL & ANN POUNDS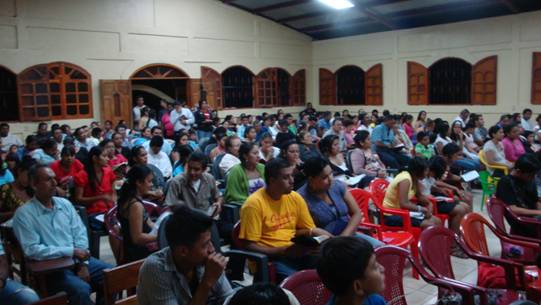 "I did what Wil encouraged us to do, and I witnessed over 300 times on this trip. My life will never be the same."
These evangelism projects are designed with a clear focus on church planting with Honduran pastors and missionaries in needy towns and villages. Evangelism teams are at the heart of world missions. "When you are on mission with God, He does the work."
Wil served as Field Director for the Honduras Baptist Dental Mission in Honduras. Previous to God directing them to Honduras, Wil and Ann served as missionaries in Panama, Ecuador and pastored churches in the U. S. They made numerous trips to Honduras with medical and evangelism teams before assuming their new field responsibilities. He and Ann are graduates of William Carey College, Azusa Pacific University and New Orleans Baptist Theological Seminary.
WHAT CAN YOU DO?
Partnership missions gives you an opportunity to become personally involved in what God is doing around the world.
Pray that our Honduran pastors and church leaders will be led by the Spirit to the locations where God is at work, and that we will be alert to the leading of the Holy Spirit in each of these ministries. We receive many requests for these courses in neighboring countries. Please pray for the Lord's guidance, direction and provision.
When God calls, He provides. Hudson Taylor observed, "God's work, done in God's way, will receive God's supply." We have watched Him open doors for teams and then almost startle them by the way He had made it all possible.