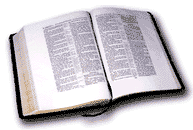 Sermons on People in the Life of Christ 
This is a series of Bible centered messages by Wil Pounds on men and women in the life of Christ and His method of dealing with them. Click directly on the message title to view it.
Didn't find what you wanted on this page? Search this Website Here
Wil is a graduate of William Carey University, B. A.; New Orleans Baptist Theological Seminary, Th. M.; and Azusa Pacific University, M. A. He pastored in Panama, Ecuador and the U. S. He had a daily expository Bible teaching ministry heard in over 100 countries for ten years. He and his wife served as missionaries in Ecuador for 20 years. He continues to seek opportunities to be personally involved in world missions. Wil and his wife Ann have three grown daughters.
A LOOK AT THE BOOK Introductions, outlines and charts on each book of the Bible.
THE VINE AND THE BRANCHES More Biblical Principles on Living the Christian Live
CHRIST IN THE PSALMS Series of messages on Messianic Psalms
Christ in the Old Testament Study the master theme of the Bible with this series on the Old Testament
SERIES ON THE EXCHANGED LIFE IN ROMANS
SERIES OF MESSAGES ON JOSHUA
SERIES ON THE LIFE AND TIMES OF ELIJAH 
INDEX OF CURRENT MESSAGES BY WIL POUNDS
LINKS TO CHRISTIAN RESOURCES
HOME