RESOURCES
Abide in Christ
Academic Organizations
Academic Books Online
Airlines
Associations
Authors/Writers
Bible Studies
Calendar
Camps
Church Leader Helps
Churches
Church History
Counseling
Creeds
College\Seminary
Cults\World Religions
Daily Devotionals
Denominations
Evangelism
Family
Finance\Business
Free Stuff
Government
Home\Life
Internet
Leadership
Legal
Libraries
Maps
Military
Missions
New Age Movements
News
Parachurch\Ministries
Pastoral Helps
Postchristian\Gen X
Prayer
Professional Groups
References
Religion News
Retreats
Search Engines
Sermons
Sermon Starters
Software
Sports
Statements of Faith
Theology
Toll-Free Numbers
Travel
Worship
Youth Ministry
Statement of Faith and Doctrinal Beliefs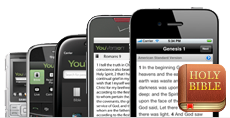 "Here is an excellent FREE applicatioin for your cellphone or tablet. I have used it every day for last few years on my cellphone and tablet. It even has audio feature so you can listen to the Scriptures" - Wil Pounds. Engage in Scripture like never before.Download the free app and enjoy regular time with the Bible, right when and where you need it. Yes, it is FREE. No strings attached. This is not an ad. It is a recommendation from a satisfied user.
258 Theology Questions and Answers
FREE Bible Commentaries by great Bible believing scholars.
Christian Colleges - Accredited Christian schools and Bible colleges