Non-profit faith based Short-term Volunteer Mission Projects designed with a clear focus on church planting in rural areas of the world.
"How are they to call on one they have not believed in? And how are they to believe in one they have not heard of? And how are they to hear without someone preaching to them? And how are they to preach unless they are sent? . . ." (Romans 10:14-15 NET).
looked out over my students in the class on Biblical preaching and thought, "There is no greater joy in all the world than seeing these students preparing to preach and teach the Word of God."
Then I thought, "O Lord, You did not have to let me be here doing this. You could have used anyone. Thank you for this great opportunity and privilege to teach these rural pastors. There is no greater experience or profession like preaching the Word of God.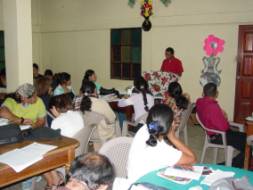 The courses are designed to cover two great needs in the rural churches in Honduras: Biblical preaching for the pastors and Biblical teaching for the church teachers.
I shared with the students the importance of personal preparation for preaching and teaching, and then how to prepare the Bible centered sermons and Bible studies.
The students practiced outlining their messages by working in study groups and then one of the students from each group presented the message to the class. They focused on observation, interpretation, and application and then added an introduction and conclusion or invitation.
Tuesday night the class worked through the whole letter of Philippians in groups with someone from each group presenting the study to the class. Wednesday night the class presented studies on Paul's letter to Galatians.
For his or her final exam, each student gave a five-minute sermon or Bible study. We sang hymns and preached for three hours and when it was over it was like we had been to a great Bible conference! This was one of the greatest experiences in my Christian ministry.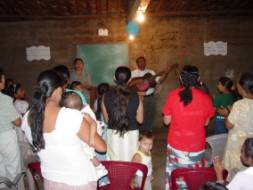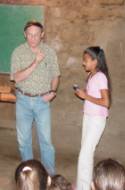 We also spent some time in the town of Zapotillo encouraging Saul and Edith at the new Baptist mission we organized in October. Over 40 children and adults met for worship. Saul is teaching a discipleship course to several new believers and preparing them for baptism.
After Juan Alberto and Edith led in singing some choruses, I had the privilege of preaching from John 3:16. I illustrated the free gift of eternal life by offering the New Testament I had preached from as a free gift to anyone in the audience. One of the teens came forward and received the gift.
We have prepared one-day Evangelism Workshops for churches in Latin America. These are patterned after the personal evangelism course we teach pastors and church leaders, but is shorter. This course has proven to be very practical and effective in personal evangelism. It was first used in Ecuador and Honduras. The vision for training rural pastors began with this course in mind while serving as a missionary in Honduras.
Partnership missions gives you an opportunity to become personally involved in what God is doing in world missions.
Pray daily for the work in Honduras.
q Pastor and Church Leadership Training Ministry in Honduras.
q We believe the Lord is leading us to respond to an invitation from pastors and church leaders to teach our courses in Ocotal, Nicaragua.
q Juan Alberto Herrera Ministry Alberto has faithfully served 18 years as a contract worker with mission teams. We agree with him that it is God's will for him to serve as a full-time evangelist and pastor. Juan pastors a Honduran Baptist Convention church in Danli. He is our Director for Pastor and Church Leadership Training in Honduras.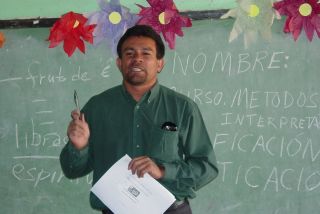 Juan Alberto Herrera is an evangelist and pastor of Alpha and Omega Baptist Church.