TEAMS IN ACTION
NEW Divine Encounter in Guayaquil
NEW Study to Show Your Self Approved of God in Ecuador PDF
NEW Seminary Extension in Guaranda, Ecuador PDF
NEW Workmen Approved of God PDF
NEW Quichua Pastors and Wives'Conference 2012 PDF
NEW Teaching Evangelism by Doing It PDF
NEW Miskito People Evangelism Training in Nicaragua
PDF
Power of God to Salvation of Quechuas PDF
Key Word Studies Doctrine Conference in Santo Domingo, Ecuador
Hunger for God's Word in Ecuador
UPDATE Sowing and Reaping in Nicaragua PDF
Dr. John Howell's Evangelism Team Report on Ecuador PDF
Pastor's Conference with the Quechuas in Riobamba, Ecuador August 2011 PDF
Quechua churches in Riobamba, Gatazo, and Jipijapa, Ecuador in June, 2011 PDF
Born to Multiply in Santo Domingo, Gataso, San Bardardo, and Guayaquil, Ecuador
PDF
Evangelism Workshops in Wiwili, San Juan de Rio Coca, and San Raphael de Norte
PDF
Ministry to Quechuas
PDF
Construction of new Baptist Mission Ocotal, Nicaragua
PDF
Construction completed in Danli & Zapotillo - Evangelism Training in Teupasente
Powerful Personal Witness for Christ Over 500 Personal Decisions
Evangelism Workshops in Chachapoyas Peru
Evangelism Training in Nicaragua 2010
Las Crusitas Bible Institute in Honduras and the city of Talanga
Evangelism Workshops four cities in Nicaragua
Evangelism Team in Lepaterique, Honduras
Evangelism Workshops with Nicaraguan Baptist pastors in Ocotal
Evangelism Team Witnessing in Danli and Zapotillo
Evangelism and Construction Team Danli & Zapotillo January 2009
Evangelism Team in Palacaguina, Nicargua
Door-to-Door Evangelism Team at Las Acacias report by Dr. John Howell
Church that Meets in Pablo's House
Two New Missions Completed in Honduras
God at Work in Two New Mission Starts in Honduras
Evangelism Conference in Nicaragua
Gospel Outreach in
Regions Beyond
Medical Dental Evangelism and Church Growth
Graduation of Students
New Mission Churches
Preach the Gospel in Season
and Out
Mission Outreach in Danli, Honduras
Biblical Preaching & Teaching Course - Follow-up on Zapotillo
Baptist Mission Started in Zapotillo, Honduras
Children's Bible Classes in Danli, Honduras
Baptism of new believers in Danli, Honduras
Bible Institute Courses by Extension
Juan Alberto Herrera's Testimony
First Bible Institute Course taught at Danli January 2005
Seminary Extension Courses in Managua, Nicaragua
TEAMS IN ACTION
Christian Missionaries and Missionary Christians
by Tom Ascol
"We never test the resources of God until we attempt the impossible" -- F. B. Meyer
"We must do something!
Expect great things from God! Attempt great things for God!" -- William Carey,
father of the modern missionary movement.
"Anything God has ever done He can do now. Anything He has ever done anywhere, He can do here! Anything God has ever done for anyone He can do for us" - A. W. Tozer
Short-term Volunteer Mission Projects designed with a clear focus on church planting in Honduras.
Report by Rex Henderson on Cuyali, El Paraiso, Honduras, June 2003.


Across the Honduran mountainous crags, chasms and creeks, the people walk for miles to receive medical and dental care. Come rain or shine they wait in line for treatment.
edicine –  the magnet that draws people to Christ.
God uses medical-dental-evangelism teams to open doors to share Jesus Christ in the poor rural communities in Honduras.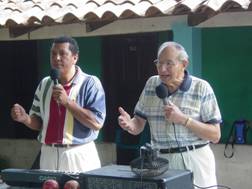 "We want to discover where God is at work, and with His permission get right in the middle of what He is doing."
I enjoyed greeting the waiting crowds who were there for music and preaching. They sat and stood patiently awaiting the services to begin. It was a dramatic picture of God reaching down in grace to the people, who had not heard, if ever, the saving grace of the Lord Jesus Christ. The preaching had to be plain and simple as the old and young answered God's call to love and grace. In each service many came accepting Jesus as Savior. One man was 82 years of age. 
Check out these excellent creative writings by Rex while you are visiting Abide in Christ.
Poetic Reflections on the Psalms Poems on the Book of Revelation Poems on the Book of Daniel Books in Print by Rex
The doctors saw 2,094 patients during the four-day mission.
No drilling or fillings were offered, but extracting teeth was prevalent. The dentist saw patients hour after hour in tireless effort to heal and share the grace of God.
I SAW GOD DO IT
Larry Murphy's Central Alabama Medical-Dental-Evangelism Team served in Cuyali, El Paraiso, Honduras, May31-June7, 2003.
We conduct around twenty-five worship services during each team visit. Every patient must attend a worship service before he can see a doctor or dentist. On this trip 125 professions of faith were made in the public worship services.
| | |
| --- | --- |
| Medical Patients | 2,094 |
| Prescriptions Filled | 7,319 |
| Dental Patients | 338 |
| Teeth Extracted | 719 |
| Toothbrushes Distributed | 338 |
| Adult Decisions for Christ | 125 |
| Spanish Bibles | 600 |
| Gospel Tracts, John | 500 |
| Animals Vaccinated | 1,236 |
| Eyeglasses | 255 |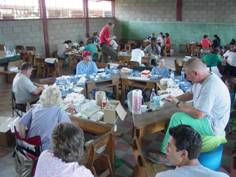 A competent and devoted pharmacist and helpers carefully filled prescribed medicine for each patient.
Partnership missions gives you an opportunity to become personally involved in what God is doing in world missions.
Pray daily for the work in Honduras.
<![if !supportLists]>q <![endif]>Juan Alberto Herrera Ministry   Alberto has faithfully served 18 years as an evangelist with our mission teams and pastor in Danli, Honduras.
Go on a medical-dental-evangelism team.
Our day began at 5 a.m. and ended at 9 p.m. Forty-five team members were from Alabama and each was devoted to the Lord Jesus Christ and the ministry of needy patients.
I
Give Us Your Feedback - Immediate Response Form - Only takes a couple of seconds Also best way to email us.
Poetic Reflections on the Psalms by Rex Henderson